HAPPY 18TH BIRTHDAY BETH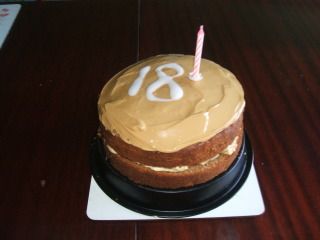 Beth said she wanted a homemade cake as they taste better than shop bought! Her favourite is coffee, so thats what I've made
Menu For the Day
D : Eating out at a Carvery (Beth's choice).
Saturday 23rd June 2012
Off to Lidl this morning. Up until now I usually did my Lidl shop on a week day but I've just discovered that Lidl have half price sales at the weekend. You can sign up to receive their weekly newsletter. If you go to www.lidl.co.uk enter your postcode and choose the shop nearest to you, you will get sent the weekly half price deals to your email. Hopefully I'll get some good bargains on low carb stuff today.


Must admit I'm feeling a bit disappointed today, I have my weekly weigh in on Saturday mornings and for the last 3 weeks the scales have been stuck at the same weight. The tape measure has been the same, still no change. I am determined to persevere (I've no choice) the weight must come off.
Menu
Breakfast : Kallo Rice puffs & hazelnut soya milk
Lunch : 6 Nairn's gf oatcakes with lf spread and lf cheese.
Dinner: 1 pork loin chop grilled, 2 sausages, a fried egg & salad.
low carb raspberry crumble & cream.
Got stocked up on some meat items and also found flax and gf oats at Sainsbury's. Tried baking Rosemary & onion crackers. Had a little nibble and they are ok will use these instead of oatcakes. Hope to cut out crackers altogther eventually. Will be able to have the bakewell porridge now that I've got gf oats.