Chicken Supreme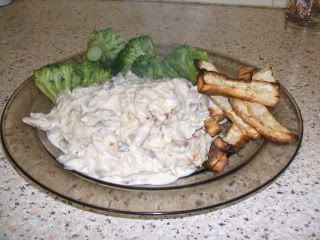 Any left over chicken, diced.
About 6 mushrooms chop

ped
2 tbsps chicken stock (option

al)
1 tub lactofree soft cheese
In a largish saucepan m

elt

the cream cheese. Gradually add the
diced chicken. If it is too thick to work then add a little cream, a little at a time.
Continue adding small amounts of chicken, cream & mushrooms until all used up. Finally add the chicken stock. Simmer for about 10-15 mins stirring occasionally.

The rest of my family had this with pasta, it can also be served with rice. As you can see I had broccoli and celeriac chips.
Had a much better sleep last night and after just one day being back on low carb my head is much better and I can think straight again. Energy levels are still low but now I'm back on the straight and narrow these should imp

rove too.
B: 3 rashers of bacon
L: 4 small lamb chops, stir fried cabbage & celery.
D: 2 boiled eggs. Cashew nuts. Mug of Cocoa

Hoping to get some ironing done otherwise I'll have nothing to wear!
Its supposed to be House Group tonight but it depends if OH gets back from work on time. I hate turning up half way through a study.